Click on images to see a bigger version.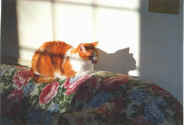 This handsome fellow is Kenneth. He was featured in the 1998 Cat-A-Day calendar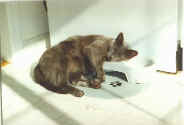 This gorgeous female is Katie, and she was also featured in the 1998 Cat-A-Day calendar. She's very vocal when she wants attention.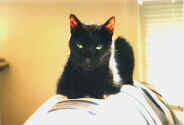 Skeeter is the elder statesman of our cat clan. He's 15 years old, and spends most of his time soaking up the attention in our bedroom. For some reason, a lot of the others just don't seem to like him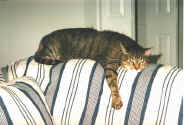 Conner is absolutely amazing. He has the ability to get comfortable wherever he happens to be. Don't be fooled...he's also everyone's boss!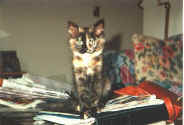 Jasmine is just as sweet as she looks. Although this picture is about two years old, she's not much bigger. She's just a dainty princess!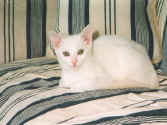 You can't see it in this picture, but Timmy had a black smudge in the middle of his forehead when he was born. It's all gone now that he's all grown up.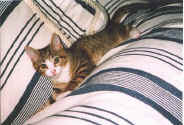 Zoey is Timmy's half sister from another litter, and joined the family a couple of months after Timmy did. That's been almost three years ago, now!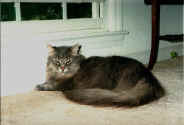 Isn't this just about the most handsome guy you've ever seen in your life? Bobby is just as shy as he is beautiful. Be he's very affectionate once he gets to know you!